Known as one of the most valuable types of agarwood, Ky Nam is one of the extremely valuable raw materials used as tribute to kings. Understanding the tastes of agarwood lovers, OUD House has launched 9 of the most beautiful Ky ​​Nam agarwood bracelets on the market to satisfy customers' needs.
What is Ky Nam agarwood?
Ky Nam is considered one of the most valuable types of agarwood among all types of agarwood. Because of their magical uses in feng shui and health, causing "agarwood connoisseurs" to hunt for it.
Ky Nam agarwood is formed on the Aquilaria tree over a period of 50 to more than 1,000 years of sedimentation. That's why people often compare the rarity of Ky Nam to "sucking on wormwood to find agarwood", meaning it takes up to a century to find them.
With its pure black color, beautiful metallic luster, and sweet scent, it brings users relaxation and can cure many diseases. Therefore, the value of Ky Nam can reach billions and the quantity is very limited.
Miraculous uses of Ky Nam agarwood
Ky Nam agarwood bracelets are considered a miracle medicine and a lucky talisman of feng shui, combined with an eye-catching appearance. They are often used as a gift with wishes of prosperity and success in both life and work
The talisman attracts good luck in feng shui
This type of agarwood is so precious because Ky Nam is born from a rare wood that takes hundreds to thousands of years to form, carrying within itself the quintessence of earth.
They have the effect of attracting wealth, fortune and bringing luck to the owner, while also bringing peace to the soul and purifying impurities. People who love agarwood also tell each other that wearing this agarwood bracelet also brings wealth and fortune with a rich and full life.
Bring peace and health
Agarwood bracelets are made from Ky Nam agarwood, the most valuable folk medicine. When wearing this agarwood bracelet, it will help you calm, reduce pain, improve health, physiology, and stimulate blood circulation.
Many people after wearing Ky Nam agarwood bracelets notice a clear improvement in their health. Not only does it reduce stress and pressure to help users feel relaxed, but it also helps reduce headaches and go deeper into sleep.
Aesthetic class
Designed with a neat appearance, Ky Nam agarwood bracelet is considered a luxurious and noble piece of accessory, showing class among the upper class. This is also one of the reasons why they are sought after even though the price is not cheap.
With its expensive price, hardly anyone can own it. Therefore, the upper class often prefers this type of bracelet, they can assert their position and increase their value just through appearance.
9 most beautiful Ky ​​Nam agarwood bracelets on the market today
Ky Nam agarwood bracelet covered in gold
With a look that combines the classic look of Ky Nam agarwood with a shiny modern gold color, this agarwood bracelet is more sought after than ever. They are considered the most luxurious type of jewelry today.
Thanh Ky Nam sink agarwood bracelet
Made from Thanh Ky wood, the Thanh Ky Nam agarwood bracelet has an eye-catching greenish-gray color. The wood grain lines are evenly distributed, small and long, beautifully. The person who owns this bracelet will have a relaxed spirit, luck and fortune will come.
Bach Ky Nam agarwood bracelet
This is the most precious and expensive type of agarwood bracelet among all types of Ky Nam. With its eye-catching ivory-white color, the Bach Ky Nam agarwood bracelet represents a luxury that few people can own. The person wearing this bracelet shows a unique class, wealth, prosperous and happy life.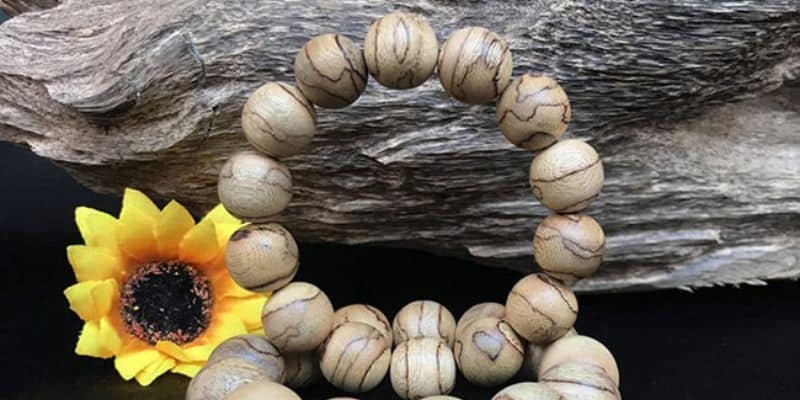 Huynh Ky Nam agarwood bracelet
With a dark brown-yellow color, this bracelet made from Huynh Ky wood gives its owner elegance and extreme class. In addition, the bracelet also brings a feeling of relaxation and peace, dispelling the fatigue in life.
Hac Ky Nam agarwood bracelets
Possessing a mysterious indigo-black color, the person wearing the Hac Ky Nam agarwood bracelet will attract all eyes with its charm and serenity. They are preferred by people with a mature style because they bring sophistication and elegance to the wearer.
Indonesian tiger-striped Ky Nam agarwood bracelet
This is a luxurious and extremely attractive piece of jewelry. The person who owns the bracelet will always have a feeling of safety. In addition, they also pray for wealth, fortune and attract positive energy in life.
Ky Nam jade bracelet with 14 beads
This bracelet originates from Khanh Hoa, with 100% pure agarwood without chemicals. They repel impurities, attract positive energy, and create conditions for wealth. This Ky Nam bracelet also helps relax, stimulate thinking and creativity.
High quality 8 millimeters Ky Huong Ky Nam bracelet,  
An extremely valuable Ky Huong bracelet contains a large amount of accumulated essential oil. Because of their rarity, the owner of this bracelet is considered very lucky. It is also considered a talisman to ward off evil spirits and bring good and positive things.
Thanh Ky Nam 108-bead-bracelet 
With brown color and light wood grain interwoven, this bracelet gives the owner peace of mind. They eliminate worries and negativity in life and help users relax and have an optimistic spirit.
Conclusion
This article is a brief summary of the uses and 9 most beautiful Ky ​​Nam agarwood bracelets on the market. With its utmost rarity and extremely aesthetic appearance, Ky Nam agarwood bracelet will be a great choice for anyone.
CONTACT US THROUGH OUR HOTLINE NOW FOR FREE COUNSELING
OUD HOUSE | VIETNAM FRANKINCENSE
Contact us: +84 866 033 099
Email: oudhouse.tiger@gmail.com